FIVE REMAINDERS OF VERNACULAR ARCHITECTURE (5R2VEX)
These five illustrations of typical house overtime are using to demonstrate the ever-changing notion of Vernacular architecture of how the meaning and the value of vernacular is shifting over different context, time and condition of the preservation.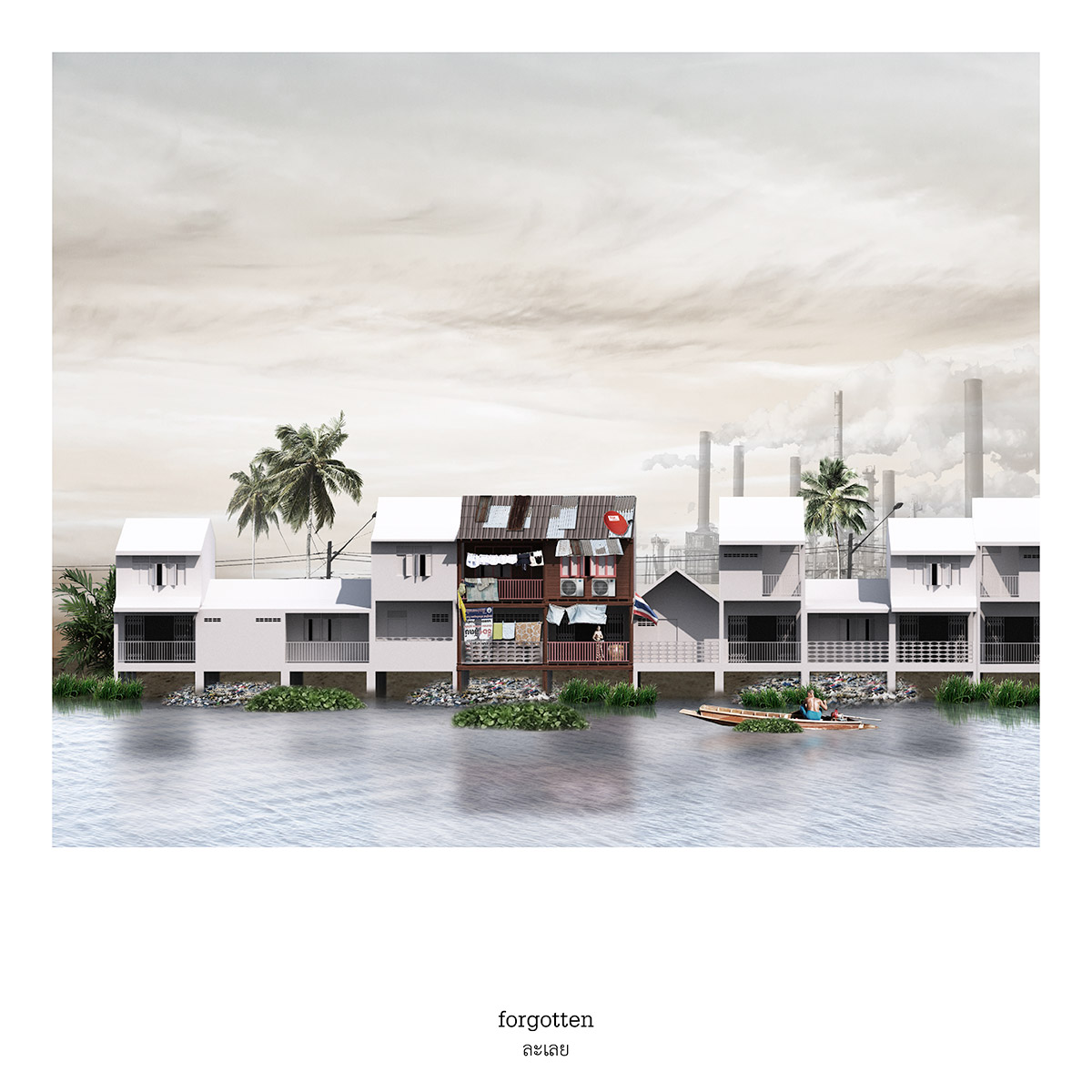 As cities become urbanised, vernacular architecture has retreated and hibernated itself. It might become invisible to many people. Looking at an informal settlement in many cities, with its limitations in space and monetary reason, the inhabitants have brought their local knowledge in disassemble and assemble as-found street objects to architecture components.
Life in the city is not easy…..Front yard transforms into a backyard. Wooden walls are covered with cheap paint. Prefabricated brick blocks, zinc sheets, political campaign billboards, advertising canvases, were used to repair instead of the proper material for budget and convenient. Air conditioning and TV Satellites were installed to respond to the comfortable. Beauty is secondary. Survival and comfort are essential.
ชีวิตในเมืองไม่เห็นสบายอย่างที่คิด…..หน้าบ้านกลายเป็นหลังบ้าน ฝาผนังไม้ถูกปกปิดด้วยสีทาบ้านราคาถูก อิฐบล็อค, สังกะสี,ป้ายหาเสียง,ผ้าใบโฆษณาถูกใช้ในการซ่อมแซมเพื่อความประหยัดและสะดวก เครื่องปรับอากาศและจานดาวเทียมถูกติดตั้งเพื่อตอบสนองความสบาย ความสวยงามเป็นเรื่องรอง ความอยู่รอดและความสะดวกสบายคือสิ่งสำคัญ
Among evolving tide of architecture styles and the diversity of mass and form, preserving vernacular architecture in its prestige condition, to go against the mainstream and remains static, the authenticity would be highlighted and made it stands out among the chaos of diversity.
Working hard for a week…..I will finally get home to watch the sunset on the patio before having dinner from our vegetable garden. Wake up late in the morning, chilling on the terrace in front of the bedroom, the wind blows while enjoying the views from the river. This house is still in quite a good condition. Although it has been used for over three generations, cultural values and experiences have been passed down from generation to generation.
ทำงานเหนื่อยมาทั้งอาทิตย์…..ในที่สุดก็จะได้กลับบ้านนั่งดูพระอาทิตย์ตกที่ชานบ้านก่อนมื้อเย็นที่มาจากผักสวนครัวที่แม่ปลูกเองข้างๆบ้าน ตื่นสายๆในเช้าวันหยุดใช้เวลาบนแคร่ที่ชานหน้าห้องนอนรับลมธรรมชาติและชมวิวริมแม่นำ้ บ้านหลังนี้ยังอยู่ในสภาพที่ค่อนข้างสมบูรณ์ ถึงแม้ว่าจะถูกใช้งานมามากกว่า 3 ชั่วอายุคน คุณค่าทางวัฒนธรรมและประสบการณ์ถูกส่งต่อจากรุ่นสู่รุ่น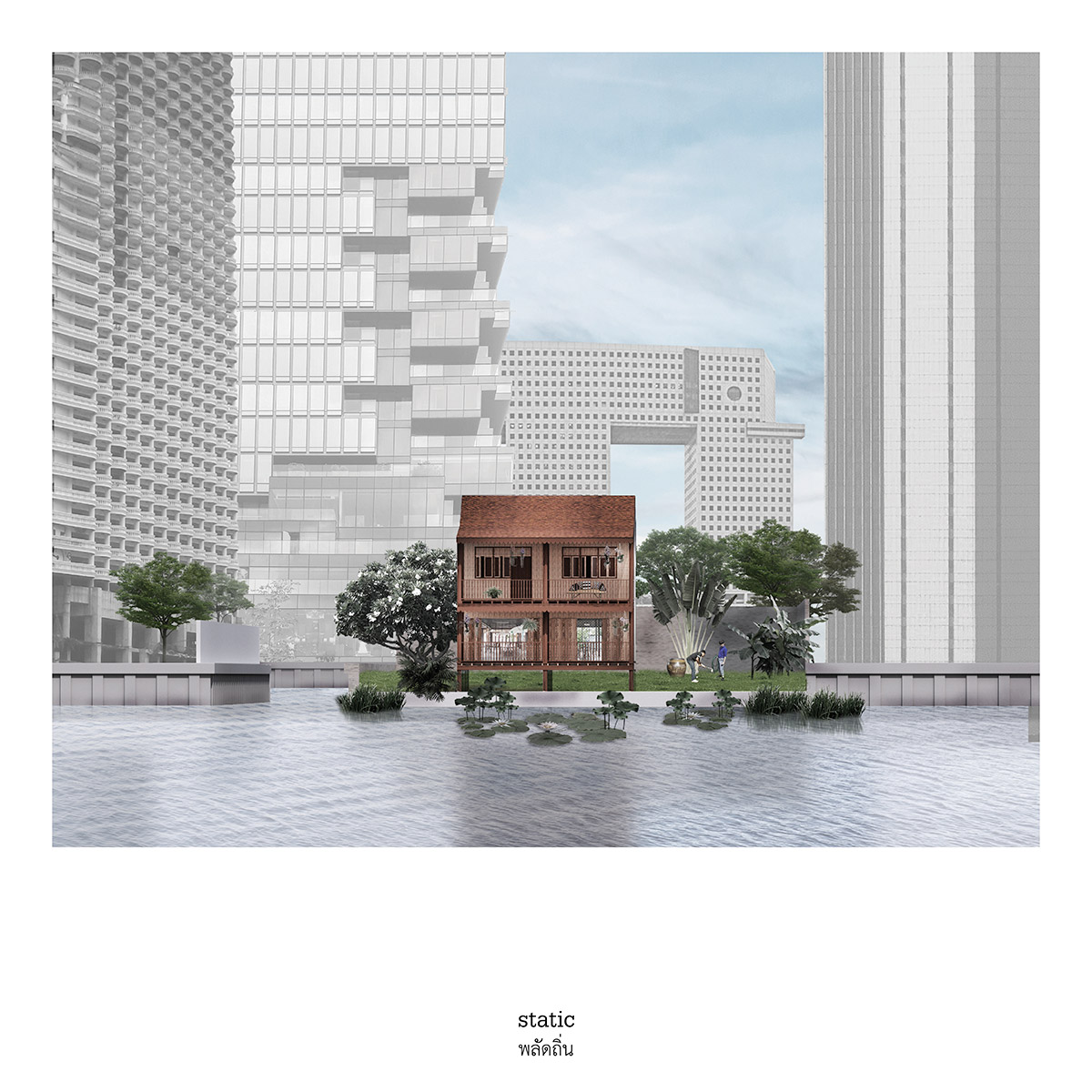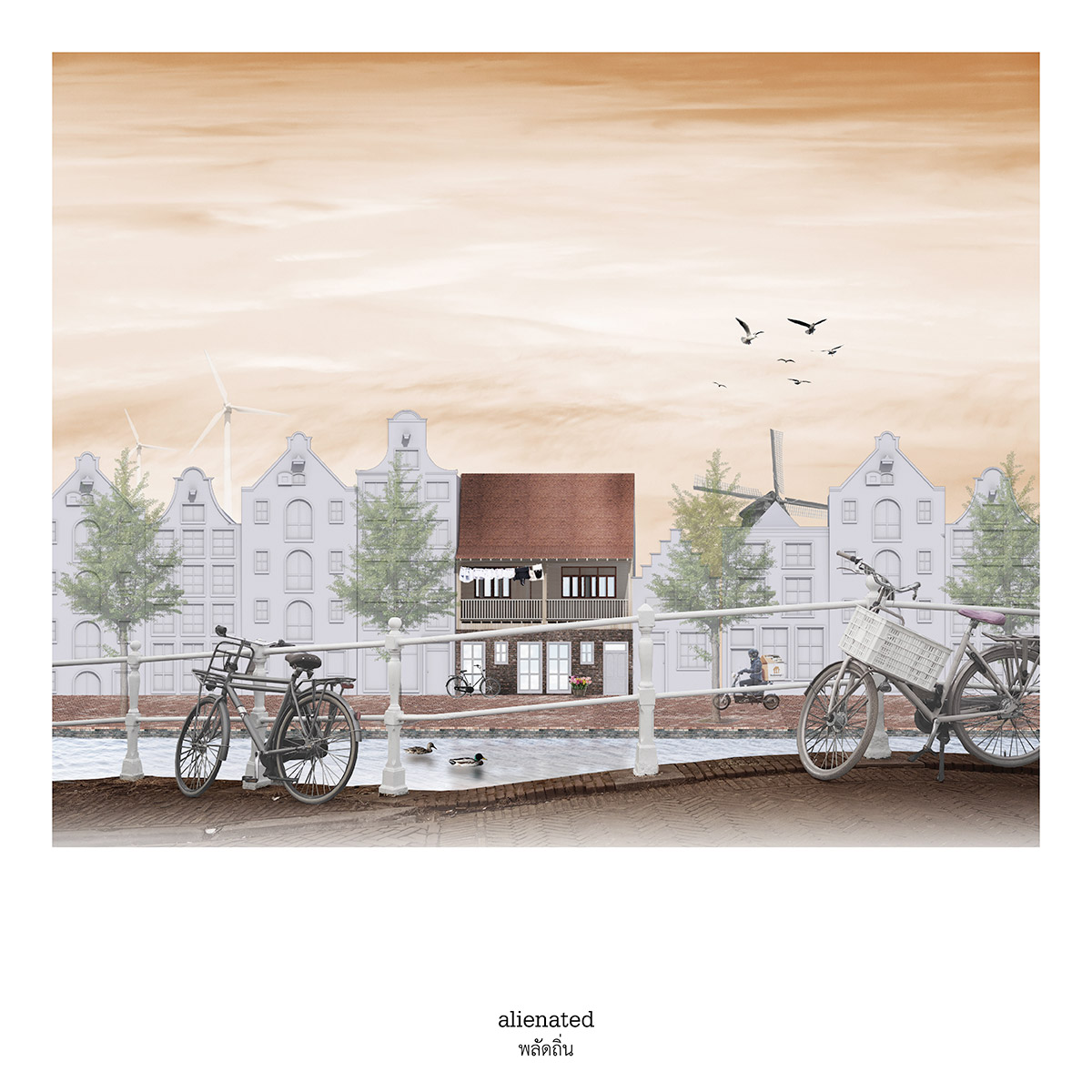 People are migrating all around the world seeking opportunities, exchanging culture and knowledge. Similarly, many traditional archetypes have been borrowed and exchanged to connote architectural language of tradition and culture. The migrated architecture could either be extraordinary or alienated to its situated context.
Almost 20 years away from homeland…..the culture that once thought strange was transmitted and absorbed indistinguishably into each other. A large window was never closed with blinds, separating the dining room and the living room from the canalside. It shows the sincerity and pride of the local culture. The second-floor is my desire to have a little space from homeland's culture.
จากบ้านเกิดมาเกือบ 20 ปีแล้ว…..วัฒนธรรมที่เคยคิดว่าแปลกกลับถูกถ่ายทอดและซึมซับเข้ามาปะปนกันโดยแยกไม่ออก หน้าต่างขนาดใหญ่ที่กั้นระหว่างห้องอาหารและห้องนั่งเล่นกับถนนริมคลองไม่เคยถูกปิดด้วยผ้าม่านเลย มันกลับแสดงออกถึงความจริงใจและภูมิใจของเจ้าของบ้าน ชั้นสองคือความต้องการของฉันที่ต้องการจะมีพื้นที่ที่สะท้อนความเป็นพื้นถิ่นของบ้านเกิด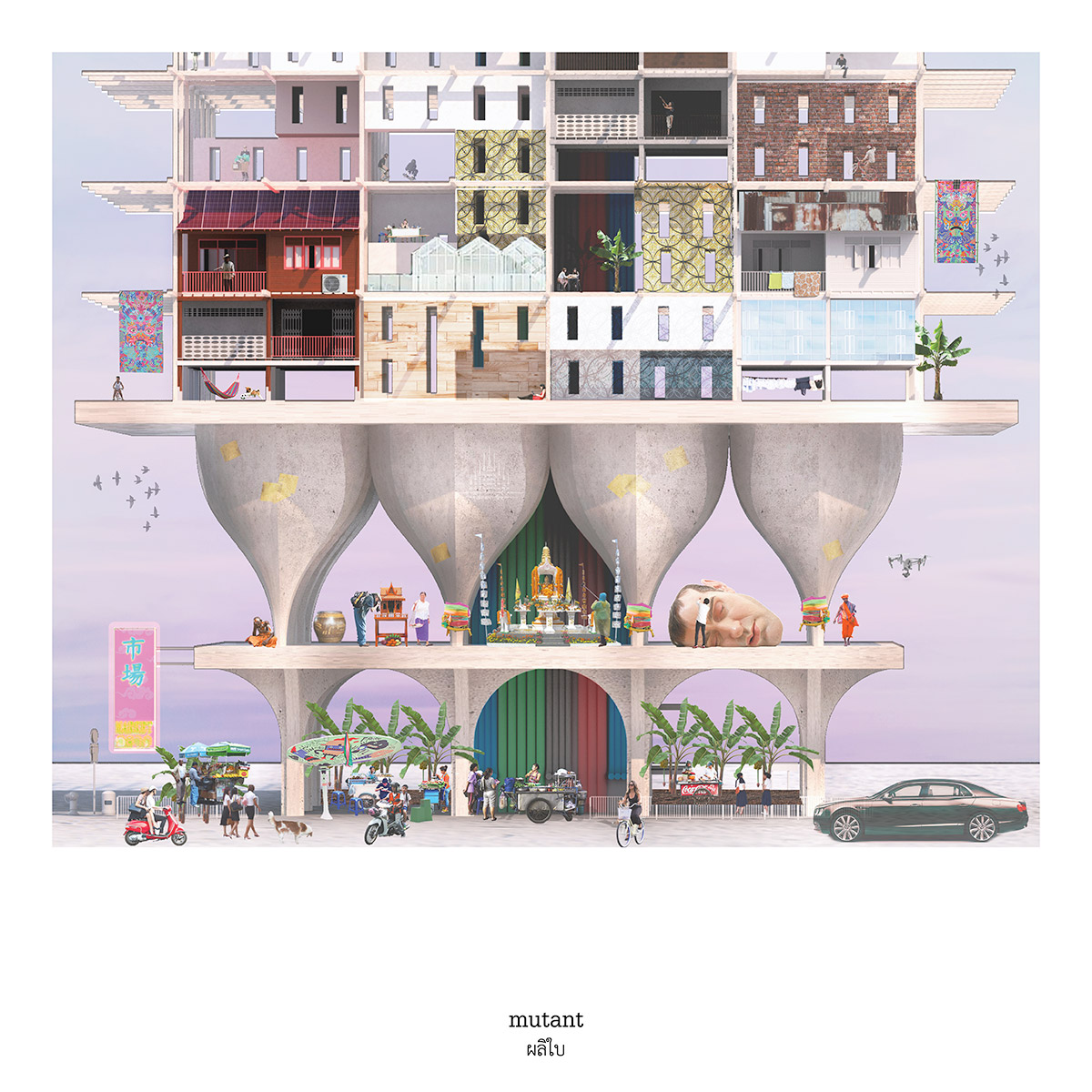 Some deem vernacular architecture as immutable, inept and conventional. Others perceive it as a catalyst for design tools. By transforming and superimpose traditional patterns and typologies, mutating architecture opts to generate new forms where culture and technology coexist.
The city looks different than 50 years ago… Our traditional Thai house, stupa and vernacular architecture that we used to remember have merged with modern technology, religious belief and our new lifestyle. It brings a new typology in architecture but contains many memories of the past.
บ้านเมืองสมัยนี้ไม่เหมือนเมื่อ 50 ปีก่อนเลยนะ…..บ้านทรงไทยในสมัยนั้น ทรงเจดีย์ที่คุ้นตา รูปทรงพื้นถิ่นเดิม ถูกผสมผสานกับเทคโนโลยีร่วมสมัย ความเชื่อศาสนา และ การใช้ชีวิตที่เปลี่ยนไป กลายเปลี่ยนเป็นสิ่งแปลกใหม่ที่ยังคงกลิ่นไอของความทรงจำในอดีต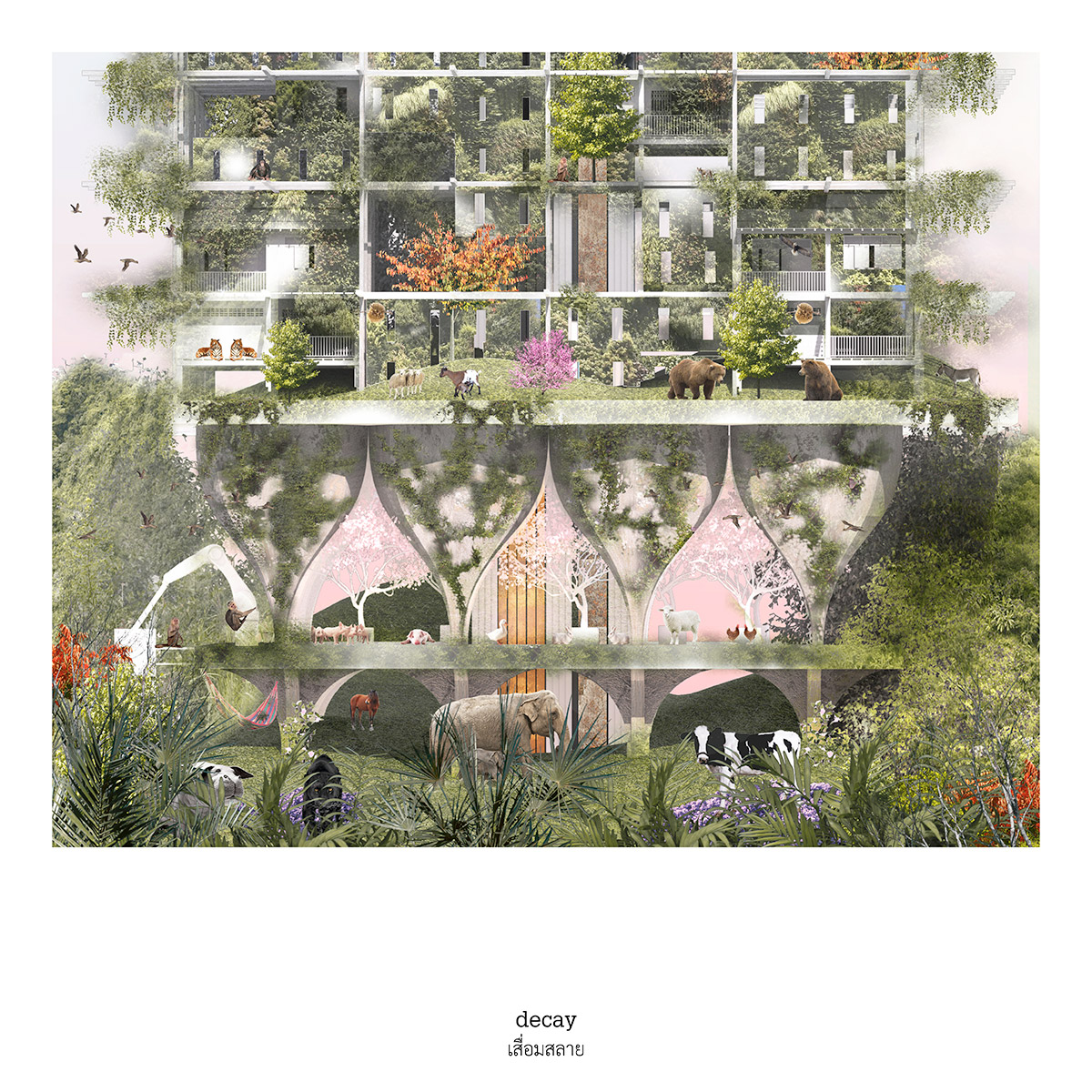 Perhaps, the state of anodyne beauty in vernacular architecture can be achieved through the penetration of nature. The sublime state where man-made elements decayed while vegetation is rehabilitating its place. The immanent inversion of surrendering design control to nature to recreate its form could profoundly reify the pure aesthetic value
The reclamation of a natural creator, roots, branches grow and penetrate into bricks, concrete and foundation. Wildlife return to their place and cohabitation. The equilibrium of nature returns to the point where there is no mankind. True beauty emerges from the balance of natural relationships.
ธรรมชาติเข้าทวงคืนพื้นที่ รากไม้,กิ่งก้านแทรกตัวและชอนไชเข้าไปในซอกอิฐ,ปูนและฐานราก สัตว์ป่าหวนคืนสู่ถิ่นกำเนิดของมัน กลมกลืนเป็นหนึ่งเดียว ความสมดุลของธรรมชาติกลับสู่จุดที่ไม่มีมนุษย์ ความงามที่แท้จริงปรากฏขึ้นจากความสมดุลของธรรมชาติสัมพันธ์